SafeBuy checks data from:
A & C Solutions Ltd's overall website link trust
NOT ENOUGH DATA TO GIVE ACCURATE SCORE
THIS IS COMMON FOR SMALL BUSINESSES WHO MAY BE FOCUSING ON OTHER MARKETING AVENUES
Are you A & C Solutions Ltd?
Claim your temporary SafeBuy profile to get more traffic, improve your appearance in search results and increase the trust of your site.
A & C Solutions Ltd
Displays Phone Number
Has Security Certificate
Site older than 1 year
Displays Address
About
No info provided
Website Description
Business to business debt collectors with a wealth of experience in our field. Welcome to A&C Solutions Ltd, your friendly but firm debt collection agency./nWe offer competitive rates and operate a no collection no fee policy to give our customers confidence in our services, you also have nothing ...
Phone
01909 564104
Location
Sheffield;Unit 11b, Monksbridge Trading Estate, Dinnington;S25 3QZ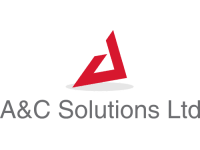 Excellent and efficient company. The debt was collected very quickly
...
read more