SafeBuy checks data from:
A & G Scaffolding Services Ltd's overall website link trust
NOT ENOUGH DATA TO GIVE ACCURATE SCORE
THIS IS COMMON FOR SMALL BUSINESSES WHO MAY BE FOCUSING ON OTHER MARKETING AVENUES
Are you A & G Scaffolding Services Ltd?
Claim your temporary SafeBuy profile to get more traffic, improve your appearance in search results and increase the trust of your site.
A & G Scaffolding Services Ltd
Displays Phone Number
Has Security Certificate
Site older than 1 year
Displays Address
About
No info provided
Website Description
Professional scaffolders in Dewsbury With over 10 years of experience in the scaffolding trade, A & G Scaffolding Services Ltd is your go-to domestic scaffolders in Dewsbury and the surrounding areas. We serve a wide range of clients including large building contractors, local councils, universiti...
Phone
01484 504250
Location
Dewsbury;Back Slaithwaite Rd, Thornhill Lees;WF12 9DS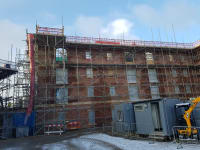 I would recommend this Scaffoldinding company as they are really good at there job + (work) and do a very good
...
read more