SafeBuy checks data from:
A & J Animal Feeds Ltd's overall website link trust
NOT ENOUGH DATA TO GIVE ACCURATE SCORE
THIS IS COMMON FOR SMALL BUSINESSES WHO MAY BE FOCUSING ON OTHER MARKETING AVENUES
Are you A & J Animal Feeds Ltd?
Claim your temporary SafeBuy profile to get more traffic, improve your appearance in search results and increase the trust of your site.
A & J Animal Feeds Ltd
Displays Phone Number
Has Security Certificate
Site older than 1 year
Displays Address
About
No info provided
Website Description
Your trusted animal food store in Howden Whether you are breeding show horses or raising poultry, you can find a comprehensive array of animal food at A and J Animal Feeds Ltd. The food we sell comes from dependable suppliers who have extensive experience in the business. You can rely on us for hi...
Phone
01430 436474
Location
Goole;Hull Rd, Howden;DN14 7LP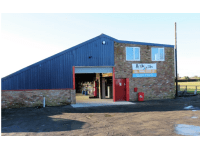 I buy all my dog food here for my dogs, I have to sometimes change their food as they get old and toothless and
...
read more
VERY FRIENDLY KNOWLEDGEABLE OPEN SUNDAYS WHICH IS
...
read more