SafeBuy checks data from:
A & L Stronach Ltd's overall website link trust
NOT ENOUGH DATA TO GIVE ACCURATE SCORE
THIS IS COMMON FOR SMALL BUSINESSES WHO MAY BE FOCUSING ON OTHER MARKETING AVENUES
Are you A & L Stronach Ltd?
Claim your temporary SafeBuy profile to get more traffic, improve your appearance in search results and increase the trust of your site.
A & L Stronach Ltd
Displays Phone Number
Has Security Certificate
Site older than 1 year
Displays Address
About
No info provided
Website Description
A&L Stronach Ltd. provide Forklift Truck hire, sales and maintenance. A & L Stronach Ltd. has been established for over 25 years. We have become one of the most reliable small businesses to serve our customers needs with regard to good quality maintenance, hire & repair of equipment. We are also N...
Phone
01467 624655
Location
Inverurie;Unit 15/16, Thainstone Industrial Park;AB51 5GT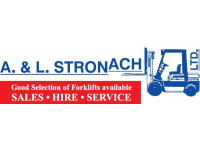 Great communication & service, they will go extra
...
read more