SafeBuy checks data from:
ALCA Tools Ltd's overall website link trust
0%
A MEASURE OF HOW CLOSE ALCA Tools Ltd IS TO THE MOST TRUSTED WEBSITES IN IT'S CATEGORY.
Web category based on sites linking in:
Business
Languages of sites linking to this site:
Are you ALCA Tools Ltd?
Claim your temporary SafeBuy profile to get more traffic, improve your appearance in search results and increase the trust of your site.
ALCA Tools Ltd
Displays Phone Number
Has Security Certificate
Site older than 1 year
Displays Address
About
No info provided
Website Description
ALCA TOOLS LTD -est 1974- Specialists in cutting tools and equipment. Supplying the trade, industry and domestic users alike. Call us or visit our trade counter today. ALCA TOOLS LTD are one of Kent's longest standing independent/nengineering distributors since 1974. We provide tooling and enginee...
Phone
01227 366051
Location
Herne Bay;80 Mortimer St;CT6 5PS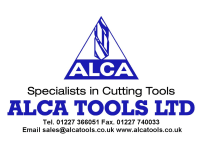 Really please. Found the item i wanted from the site. Although not the poshest out there, it was easy enough to use, i found what i wanted and had
...
read more