SafeBuy checks data from:
Al's Hobbies's overall website link trust
0%
A MEASURE OF HOW CLOSE Al's Hobbies IS TO THE MOST TRUSTED WEBSITES IN IT'S CATEGORY.
Web category based on sites linking in:
Recreation/Aviation
Languages of sites linking to this site:
Are you Al's Hobbies?
Claim your temporary SafeBuy profile to get more traffic, improve your appearance in search results and increase the trust of your site.
Al's Hobbies
Displays Phone Number
Has Security Certificate
Site older than 1 year
Displays Address
About
No info provided
Website Description
The UK's specialist Model retailer. Al's Hobbies is a premium model store stocking the latest products for hobbyists in the UK. Based in Milton Keynes, shipping worldwide.
Phone
01908 313142
Location
Milton Keynes;28 Stratford Rd, Wolverton;MK12 5LW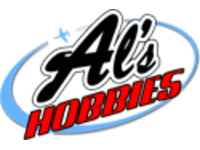 Cracking model shop, proper store with planes
...
read more
Great model shop with an impressive range of products. The staff are also extremely
...
read more