SafeBuy checks data from:
C C C P Restaurant's overall website link trust
0%
A MEASURE OF HOW CLOSE C C C P Restaurant IS TO THE MOST TRUSTED WEBSITES IN IT'S CATEGORY.
Web category based on sites linking in:
Regional/Europe
Languages of sites linking to this site:
Are you C C C P Restaurant?
Claim your temporary SafeBuy profile to get more traffic, improve your appearance in search results and increase the trust of your site.
C C C P Restaurant
Displays Phone Number
Has Security Certificate
Site older than 1 year
Displays Address
About
No info provided
Website Description
You can enjoy a varied menu with something to please everyone. All our food is sourced from the highest quality and all meals are prepared and cooked freshly to order.
Phone
01843 592811
Location
Ramsgate;14-18 Chatham St;CT11 7PP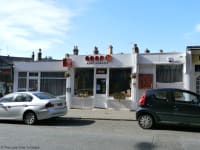 Good service, excellent and interesting food from Soviet era, always changing menu
...
read more