SafeBuy checks data from:
C & C Media's overall website link trust
0%
A MEASURE OF HOW CLOSE C & C Media IS TO THE MOST TRUSTED WEBSITES IN IT'S CATEGORY.
Web category based on sites linking in:
Computers/Internet/Web Design and Development
Languages of sites linking to this site:
Are you C & C Media?
Claim your temporary SafeBuy profile to get more traffic, improve your appearance in search results and increase the trust of your site.
C & C Media
Displays Phone Number
Has Security Certificate
Site older than 1 year
Displays Address
About
No info provided
Website Description
Low cost and economical printing and website design We deliver free to the UK. Ely flyers leaflets compliment slips posters graphic design booklets brochures stickers logo design branding sign posters posters newmarket cambridge photcopying Canvas
Phone
01353 968017
Location
Ely;3 Lynn Rd;CB7 4EG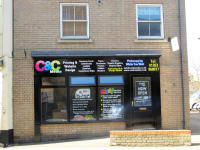 All talk nothing happens. 4 week wait for business cards. Web site taken for ever to set up and still...
read more