SafeBuy checks data from:
C Cruickshank's overall website link trust
NOT ENOUGH DATA TO GIVE ACCURATE SCORE
THIS IS COMMON FOR SMALL BUSINESSES WHO MAY BE FOCUSING ON OTHER MARKETING AVENUES
Are you C Cruickshank?
Claim your temporary SafeBuy profile to get more traffic, improve your appearance in search results and increase the trust of your site.
C Cruickshank
Displays Phone Number
Has Security Certificate
Site older than 1 year
Displays Address
About
No info provided
Website Description
Trusted provider of quality stonemasonry stone carving and building work throughout central Scotland.
Phone
0141 777 6465
Location
Glasgow;33 Badenoch Rd, Kirkintilloch;G66 3NX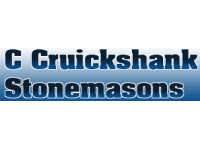 excellent work and would recommend
...
read more
Mr Cruikshank did an excellent job in replacing and repairing stones in our sandstone building, matching the finish to the existing masonry. The work was executed on
...
read more