SafeBuy checks data from:
C & G's Little Learners's overall website link trust
0%
A MEASURE OF HOW CLOSE C & G's Little Learners IS TO THE MOST TRUSTED WEBSITES IN IT'S CATEGORY.
Web category based on sites linking in:
Reference/Education
Languages of sites linking to this site:
Are you C & G's Little Learners?
Claim your temporary SafeBuy profile to get more traffic, improve your appearance in search results and increase the trust of your site.
C & G's Little Learners
Displays Phone Number
Has Security Certificate
Site older than 1 year
Displays Address
About
No info provided
Website Description
OFSTED REGISTERED CHILDMINDERS We are two childminders working in partnership to provide high quality childcare in your local area. QUALIFICATIONS:/nNVQ Level 3 Childcare& Education/nEarly Years Foundation degree/nCurrently studying for a BA in Early Years Teaching/nWe have completed the following...
Phone
07811 044728
Location
Mitcham;6 Hazel Close;CR4 1RD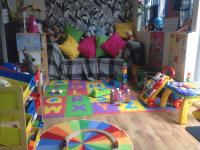 This childminder does a lot of things with the children. I liked the structure of the setting. a very
...
read more
C and G is an amazing environment that brings a warm homely feeling to any family, with a complete competence to cater to children. My son absolutely loved to be
...
read more