SafeBuy checks data from:
Secure Scanners Ltd's overall website link trust
NOT ENOUGH DATA TO GIVE ACCURATE SCORE
THIS IS COMMON FOR SMALL BUSINESSES WHO MAY BE FOCUSING ON OTHER MARKETING AVENUES
Are you Secure Scanners Ltd?
Claim your temporary SafeBuy profile to get more traffic, improve your appearance in search results and increase the trust of your site.
Secure Scanners Ltd
Displays Phone Number
Has Security Certificate
Site older than 1 year
Displays Address
About
No info provided
Website Description
UK's first website dedicated to medical imaging diagnosis. Compare prices and book MRI CT Colonoscopy Mammography Full Body Scan. Quick Appointments.
Phone
020 7989 0889
Location
London;85a Great Portland St;W1W 7LT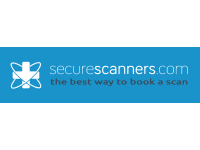 Booking with secure scanners was easy and the appointment time was very good. Receiving the results was also easy and it summarized any issues and mentioned further areas of concern.
...
read more